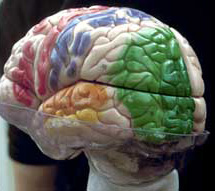 The brain "sees"… light particles fall through the cornea, aqueous humor, lens, and vitreous humor onto the retina… 137 million photo-receptors send the information via the optic nerves and area of the brainstem to the visual cortex. It is from here in the back of the skull (green area of the brain shows the left visual cortex – picture top right corner) that we actually see; from here that the eyes and overall functions of the visual system are directed.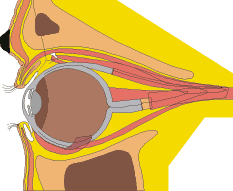 The effective functioning of the overall mechanism is a constant balancing act. The structures and fluids within the eye (inside view of the eye and the extrinsic muscles – middle picture) and the brainstem need to be in a state of equilibrium so that the light can enter the eye effectively for clear sight, coordination of the entire visual system and overall efficient body function.
When things go wrong…
As soon as this balance is upset (by distraction, anxiety, fear or not being present) certain areas will malfunction or function less efficiently. For example, if a person is using too much effort to focus his/her eyes, the visual cortex will not function effectively. Specific areas will shorten and tighten over a period of time, leading to a possible lack of clarity and coordination.
The effect of prescription glasses or contact lenses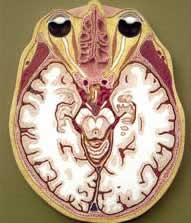 Prescription glasses or contact lenses are designed so that the maximum light reaches the fovea centralis, for clear sight.
But because the light is 'bundled' to stimulate only a very small area within the retina (around 5% of all photo-receptors) the peripheral areas of the retina and visual cortex are not being used. Nor does the eye have to move or do any 'work'. Further weakening of eyes often follows, with stronger prescriptions needed.
Glasses or contact lenses not only keep eyes 'frozen' but also encourage a postural slump, affecting breathing and increasing neck and back pain.
The Grunwald EyeBody Method ® offers natural techniques to break the habit of wearing glasses and/or contact lenses and can help you learn to move more freely.